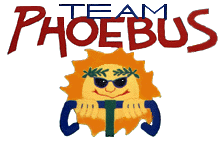 Begun in 1994 and first taking place in July 1995, the BikeRayce is a high school solar bicycle race sponsored by the U.S. Department of Energy, the National Renewable Energy Laboratory, and the Crowder College Missouri Alternative and Renewable Energy Technology Center. Since its inception, the BikeRayce has also gained the sponsorship of Electronic Data Systems Corporation.
In 1995, the encouragement of physics and chemistry teacher, Tim Morrison, promoted the creation of a solar bike team, a group of eleven students from Parkway South High School. They later named themselves Team Phoebus, after the mythological Greek sun god. The hard work of the students, their teacher, and other volunteers that year has promoted Parkway South High School to participate in the race since then. This page is about both the struggles and triumphs encountered during their first year of participation in the Solar BikeRayce.

Mail comments, suggestions, and questions to ophey@xammit.com
These pages are dedicated to the past, present and future members of the Parkway South High School BikeRayce Team. Compiled and designed by Olivia Kwong. If you would like to link your page to ours, please take a look at the information at the end of the Links Page.